mp3s :: Best Downloadables of 2010, Vol. 4
I almost can't believe it's time for the next installment of the Best Downloadables series. You can stream all the songs in this mix using the Yahoo media player at the bottom of the page or download any of the tracks at your leisure. Listen.
Downloadables:
Message From Limbo (mp3) by Marie Stella
Awake but Not Aware (mp3) by Girls in the Eighties
I Hate The 80's (mp3) by The Vaselines
When I'm With You (mp3) by Best Coast
Wink And A Gun (The Jury's Hung) (mp3) by Milks & Rectangles
(Get the whole EP @ Bandcamp)
I Was Denied (mp3) by Thee Oh Sees
Gonna Listen To T Rex (All Night Long) (mp3) by Burnt Ones
Your Way With My Life (mp3) by Woven Bones
Fort Awesome (mp3) by Motico
Leave Everywhere (mp3) by Toro Y Moi
Yellow Wings (mp3) by Keepaway
Maria Sabina (Retrograde Mix) (mp3) by Pollination
(more Maria Sabina songs @ Exponential)
MIRRORIMAGE (mp3) by Ducktails
Party With Children (mp3) by Ratatat
You (worriedaboutsatan remix) (mp3) by Gold Panda
Wide Eyes (Suckers Remix) (mp3) by Local Natives
(more remixes + stems @ Local Natives)
Rebong (mp3) by Dam Mantle
Hot Tub Freaks Like You (mp3) by The Hood Internet
(get the whole EP @ The Hood Internet)
Mind Body Mind (mp3) by Dunian
(get the whole EP @ Mediafire)
Pollution Shampoo (mp3) by Coyote Clean Up
From Home (Mux Mool Remix) (mp3) by Tycho
Be sure to check out the rest of the year's Best Downloadables:
Vol. 1 | Vol. 2 | Vol. 3 | Vol. 5
Additionally, if you like what you hear you should probably purchase music from the above artists at any of these fine online retailers:
Insound | Amazon MP3 | eMusic | Other Music
Also, If you want to download all (or most of) the tracks in this post, you should probably think about installing the DownThemAll! or FlashGot Firefox extensions.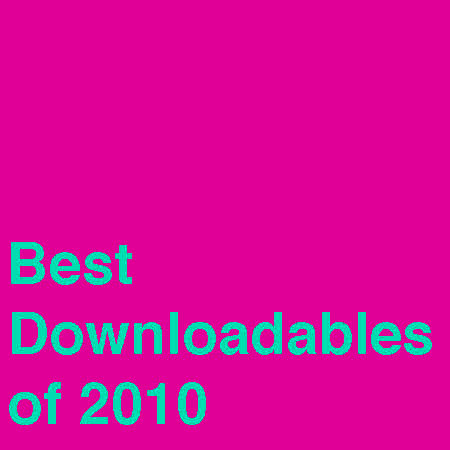 (Slightly) Related Posts: