mp3s :: The August 2009 Mix
It's time again to look back and reflect. What were we listening to one year ago?
Listen to the August 2009 Mix to find out…
Downloadables:
You're A Target (mp3) by No Age
Dreamsucker (mp3) by Grooms
Bone Jam (mp3) by Jeff The Brotherhood
Stats And Demographics (mp3) by Huak
Truth Is (mp3) by The Sky Drops
My Car Is Haunted (mp3) by Royal Bangs
Free Energy (mp3) by Free Energy
Cool Jumper (mp3) by Wavves
Beach Town (mp3) by Le Loup
Name Tossers (mp3) by BOAT
We're Not Going (mp3) by Darlings
When I'm Gone (mp3) by Vivian Girls
Open Water (mp3) by A Grave With No Name
DIE SLOW (TOBACCO RMX) (mp3) by HEALTH
Surf Solar (Edit) (mp3) by Fuck Buttons
Poison Diamonds (mp3) by Adventure
Some Sun (Yppah Remix) (mp3) by Pollination
Get Older (mp3) by Dan Deacon
If you like what you hear you should probably purchase music from the above artists at any of these fine online retailers:
Insound | Amazon MP3 | eMusic | Other Music
And if you haven't done it already, make sure you check out the other monthly mixes.
Also, If you want to download all the individual tracks in this post, you should probably think about installing the DownThemAll! or FlashGot Firefox extensions.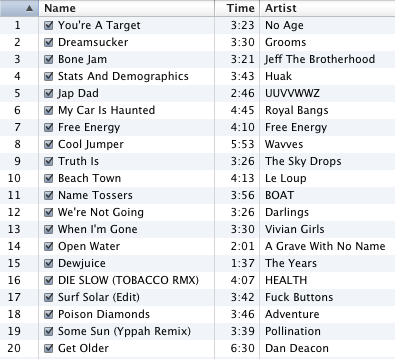 (Slightly) Related Posts: