mp3s :: bandcamp dot com slash sxsw
Here is a mix I have culled from the quite excellent bandcamp.com/sxsw. Some of these bands you will definitely recognize from the pages of GIMME TINNITUS, some not. Listen.
Downloadables:
Editor's Note: I didn't actually see that last track on bandcamp.com/sxsw, but it should be.
You can stream all the songs in this mix using the Yahoo media player at the bottom of the page OR if you are browsing with Chrome you can play (and scrobble) the whole page using the ex.fm extension OR you can just download any or all of the tracks at your leisure and play them using a digital media player of your choice.
If you want more SXSW downloadable goodness, check out these websites:
And if you like what you hear you should probably purchase music from the above artists at any of these fine online retailers (or your local independent record store):
Insound | Amazon MP3 | eMusic | Other Music
Also, If you want to download all (or most of) the tracks in this post, you should probably think about installing the DownThemAll! or FlashGot Firefox extensions.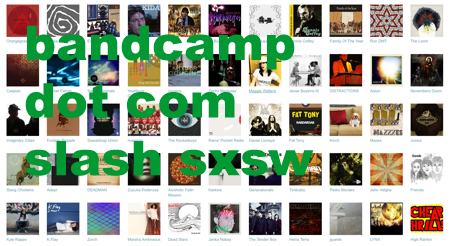 (Slightly) Related Posts: