q and also a :: Young Adults
Demitri, Chris and Kurt of Young Adults sent us these answers to our questions in this next installment of the q and also a series.
q: What is the last song you (really) heard?
d: No Life (youtube) by Milk Music
c: Last song I really felt was February Fourteenth (mp3) by the Lilys. Goddamn.
k: Caught in a Hustle (youtube) by Immortal Technique
q: What is your favorite beverage?
d: Tie between Whiskey and Water
c: Coffee
q: What is your favorite band to see live?
d: Abe Vigoda when they were performing Skeleton. I think that mostly has to do with the fact that I was seeing one of my favorite bands in a smaller venue. If I got to see Sonic Youth at Great Scott or the Glasslands instead of Prospect Park I might have went with them.
c: Doomstar! is impressive every time I see them. Skimask is another local beast. Last time we played with them I was mesmerized and taken over by their energy. They make me grin from ear-to-ear. I had a 'Sister Ray' moment when I last saw MMOSS at Zuzu. They were possessed; I was possessed. I'm also REALLY looking forward to seeing The Feelies for the 4th time in a couple of weeks. Tightest band.
k: Doomstar! and Thee Oh Sees for sure!
Downloadables:
World Heart (mp3) by Abe Vigoda
The Diamond Sea (Edit) (mp3) by Sonic Youth
Night at the Movies (mp3) by Doomstar!
Wander (mp3) by MMOSS
Should Be Gone (mp3) by The Feelies
I Need Seed (mp3) by Thee Oh Sees
q: What is your favorite venue in NYC (if applicable)?
d: Judging from my limited experience with playing NYC with Young Adults I would have to say Death by Audio. I recently moved back so we should be playing here more frequently and get more venues under our belt. Ask us that again in 4-6 months.
c: Not too familiar with NYC but I love seeing bands at the Cake Shop. Death by Audio was fun to play. I'm looking forward to checking out Pianos this weekend and the cool jellyfish stage at Cameo.
k: Bruar Falls and Death by Audio where we played with Shark?.
Downloadable: I Got Friends (mp3) by Shark?
q: What piece(s) of culture are you really really excited about right now?
d: It's impossible to ignore the phenomenon that is Odd Future. The kids can really write and produce some serious shit. I would prefer if the songs contained lyrics with significantly less rape content, but that aside, they are the freshest group to emerge from the hip hop scene in years. Like Wu-Tang bangin in your system.
Editor's Note: There are nine free albums of the various Odd Future Wolf Gang Kill Them All projects @ oddfuture.com/musics.
c: The Underground Summit we played in February was a fascinating local culture phenomenon. As for other phenomena, the internet's cultural dominance continues to frighten and impress me. It's something I think about and talk to people about all the time. Remember when growing up didn't include a global social pedestal? Weird times.
k: I am always excited when something gets rehashed like music or fashion. It amuses me to see where people pull inspiration from next.
q: Anything we should know about your latest project (whatever that might be)?
d: It's to early too make conclusive statements concerning our next project, but we are working on some new material that happens to feed off of our more aggressive sonic impulses. I'm not sure if the rest of the songs we write will follow this pattern, but come check some of it out this weekend and see for yourself.
c: We've got some noise babies in the womb right now. They're gonna be scary babies.
Downloadables:
Let Us Out (mp3)
Campfires (mp3)
Bummer Summer (Demo) (mp3)
Streamables:
Black Hole (bandcamp)
Let Us Out (vimeo) by Young Adults (sxsw)
You can always purchase the digital version of Black Hole over @ the Young Adults' Bandcamp.
If you like, you can still grab the whole of the Young Adults' demo @ Mediafire.
Upcoming NYC shows: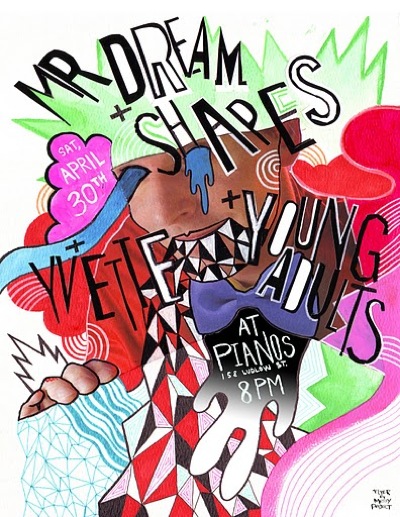 And be sure to check out the rest of the q and also a series… here.
Young Adults are on Facebook
Young Adults are on Bandcamp
Young Adults are on Twitter
Young Adults are on Myspace
Young Adults are on elbo.ws
Young Adults are on Hype Machine
Young Adults are on AMDISCS
(Slightly) Related Posts: