concert :: EISGTCMJ 2012
The Exploding In Sound / GIMME TINNITUS CMJ Showcase at Paper Box is tomorrow (Saturday, October 20th)!
Doors @ 2PM. $8 or CMJ Badge. Interstitial Music provided by DJ GIMMETINNITUS.


EISGTCMJ 2012 lineup + set times + streams:

Thanks to GODMODE Records, and…

Paper Box
17 Meadow Street
Btwn. Waterbury & Bogart
Brooklyn, NY 11206


There's more EISGTCMJ 2012 streamablility on the internet!
Streamable: EISGTCMJ 2012 on 8tracks
Streamable: EISGTCMJ 2012 on Soundcloud
Streamable: EISGTCMJ 2012 on Rdio
Streamable: EISGTCMJ 2012 on Spotify


BONUS EISGTCMJ 2012 Mixtape:
With Fangs (mp3) by YVETTE
Dirty Hands (mp3) by EULA
Indoor Soccer (Live @ WFMU) (mp3) by Speedy Ortiz
Super Vague (mp3) by Roomrunner
Bad Blood (mp3) by THE FLAG
the rot and rind (mp3) by Trabajo
Drifting (mp3) by Young Adults
What A Mess (mp3) by Mr. Dream
ahhehuhah (mp3) by ovlov
Polyamory (mp3) by SLOTHRUST
number one hit single (mp3) by Pile
Sludge River Mouth (mp3) by Sleepies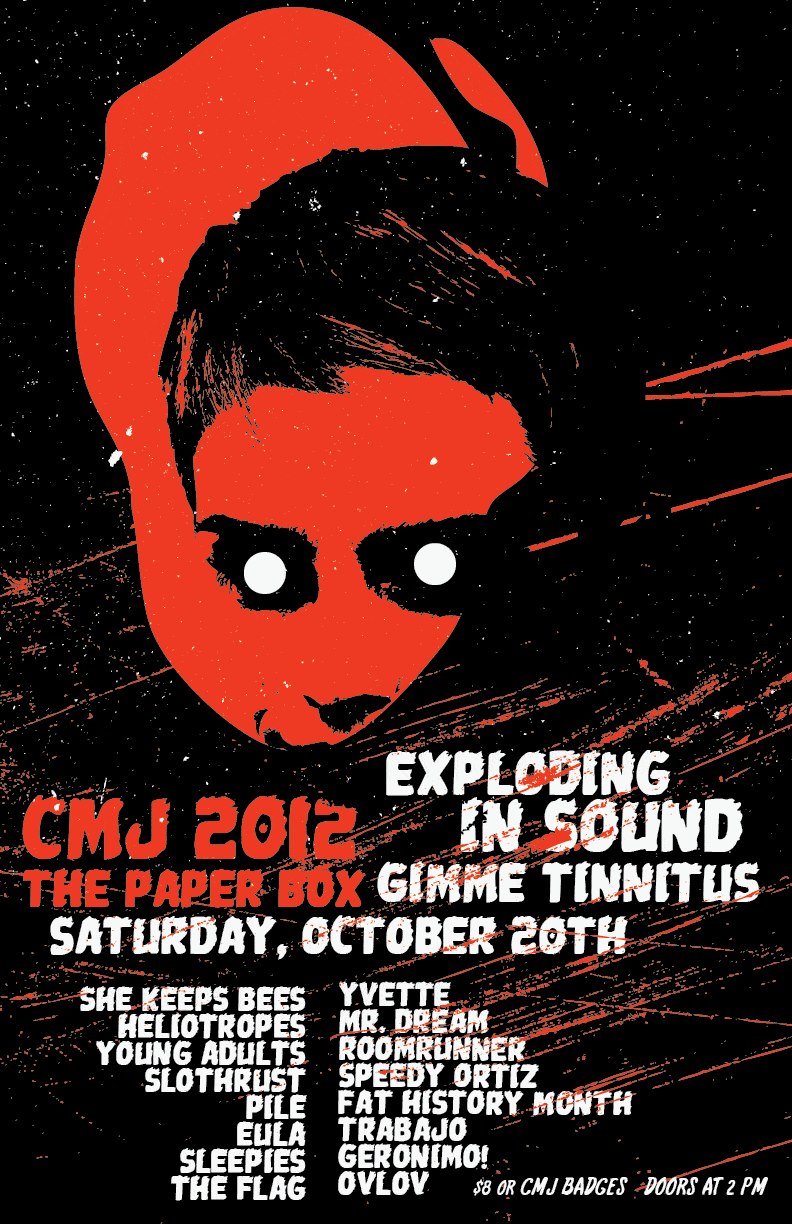 (Slightly) Related Posts: