concert :: New York reCOVERS > An Occupy Sandy Benefit @ Death by Audio 12/10/12
On Monday, Decemebr 10th, four bands will be playing covers to raise money for Occupy Sandy to help those impacted by Hurricane Sandy. This concert will be held at the always awesome Death by Audio (49 S 2nd St btw Kent & Wythe), and will feature the music of:
Facebook RSVP: https://www.facebook.com/events/395535227192053/
Here are some mp3s to get you excited:
Combat (mp3) (as seen) by Sleepies
Tree For Shade (mp3) by EULA
Shit Hits the Fan (mp3) by Bad Credit No Credit
Tommy (mp3) by Not Blood Paint
If You Say So (mp3) by Geek Skull
And if you can't make it to the show, think about making a donation @ interoccupy.net/occupysandy/donate/, and if you are low on $$, you can get info on volunteering @ interoccupy.net/occupysandy/volunteer/.
And don't forget this coming Friday (December 14th) there's A Holiday Benefit Show for the Rockaways at Cake Shop.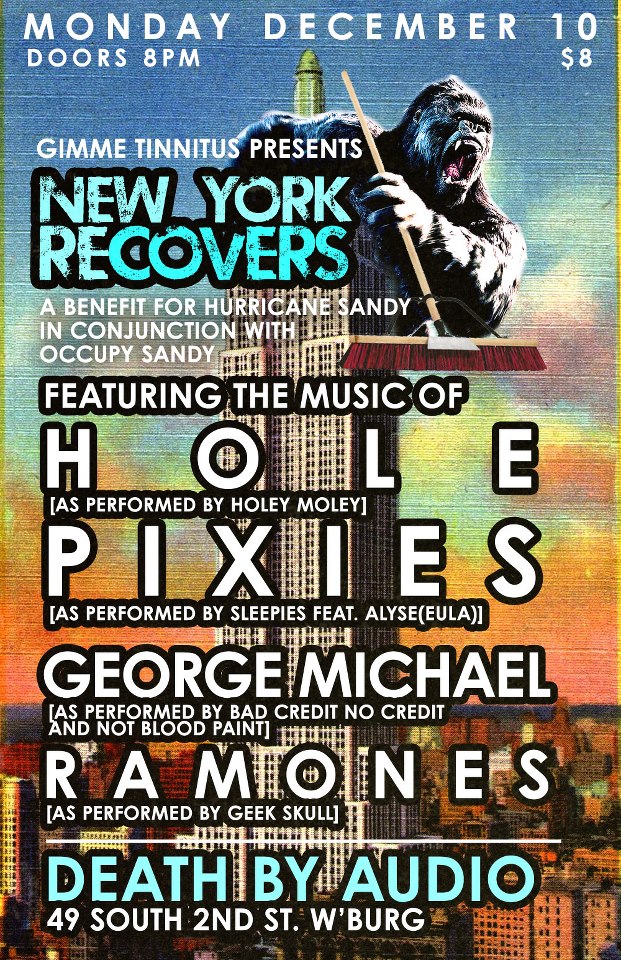 (flyer by Fernando Martinez of Holey Moley)
(Slightly) Related Posts: