q and also a :: NYC Cassette Fair + Show
As you may already know, GIMME TINNITUS, Mirror Universe Tapes, GODMODE and Silent Barn are organizing the NYC Cassette Fair and Show! That's happening this Saturday from 5pm-12am at Silent Barn (duh). It will feature tapes and merch from over 20 labels including: Mirror Universe Tapes, GODMODE, Friends Records, Super Meow Records, 1080p, New Camp, Orange Milk Records, Crash Symbols, SLUDGE PEOPLE, Bird Tapes, Hope For the Tape Deck, Grateful Bones, Sky Jokes Records, PlusHeartStar, Tranquility Tapes, Magnetic South Recordings, MJMJ Records, Bridgetown Records, Old Flame Records, Burger Records, Bleeding Gold Records, Fire Talk, Words+Dreams, Double Double Whammy Records/Tapes, and Awesome Tapes From Africa.
And here is the NYC Cassette Fair & Show "Mixtape":
Other Side (mp3) by Lame Drivers
Nightface (mp3) by Imperial Topaz
Boredom Is The Dream Bird (mp3) by Trabajo
NeverSink: Face of the Amphibian (mp3) by Nonhorse
1_12_13 A (Tape Dub) (mp3) N A F T A
UPDATE: And stream a totally different NYC Cassette Fair + Show Mix at the GT Soundcloud or by using the widget below:
This event is being held in conjunction with Cassette Store Day.
So, I asked my co-organizers about tapes and stuff. Tom of Mirror Universe Tapes, Mila of Silent Barn, and Nick of GODMODE sent me these answers to the following questions in this special installment of the q and also a series.
q: What is the last cassette you listened to?
tom: Two nights ago I had Fugazi's Repeater (Discord) on repeat while cooking dinner. I actually had never spent time with this album until I bought a copy on Franklin St. in Greenpoint a couple years ago..so I heard it for the first time on cassette. I've also been listening to Moon Jelly's self titled EP (Bleeding Gold), Terror of the Deep's Permanent Weekend (Night People), and Unhappybirthday's Kraken (Night People) a whole lot.
mila: maybe that fasano "the barn" tape from GODMODE, actually! i love the aesthetic of these tapes–monochrome and stamped with a cool, simple image. just asking to be collected and look great stacked together. i like stuff like that, though most of my cassettes are things i picked up for $.50 here and there. like i have more sade tapes than anything else and my favorite find is quite possibly madonna's erotica. i have this thing where if i originally purchase music on a specific format, i can only listen to it in that format or it doesn't feel right. the internet dispels that completely, but i still can't listen to r.e.m.'s out of time on my laptop for that reason.
nick: I picked up a bunch of Dark Entries cassettes and have been working through them. They do a lot of good gothy drum machine type music.
q: Where is the last place you acquired a tape?
t: The last four tapes I acquired were all birthday presents. Ted McGrath gave me a copy of his new single (The Flag's Alpha 60 Punch Out), Drew Heffron gave me a vintage copy of Let them Eat Bingo, and GRZGRZ of Memories of the Future sent me a couple of early 90s Catsup Plate releases (Mean Spirit'd Robot's His Armies Is Humming and Yak&'s Flavor House) that he stumbled across. I've actually never held any of the early home dubbing revolution tapes from the 90's until now, and it's reassuring that I'm following in a long established tradition.
Streamable: Beats International ~ Dub Be Good To Me (1990) (youtube)
m: the internet–bandcamp or at shows. i used to get all my tapes from the salvation army, including a nice collection of mixtapes of 80s jams–and it's always 80s jams! (and discovered a few not-so jams like the hooters "all you zombies," highly recommended youtube video). lately you can find tapes in record shops here and there, which is kinda funny. even deep cuts at silent barn has 'em.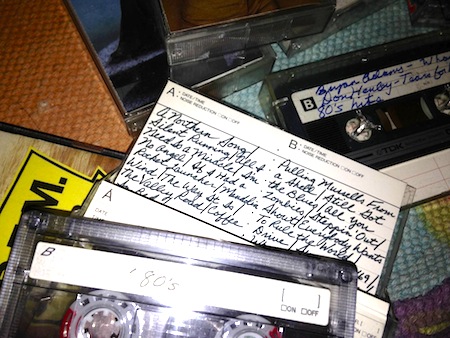 n: I do almost all my tape purchasing via mail order. So the last place was New Camp's bandcamp page. That's Nate Luce's label.
Downloadable: Caverb (mp3) by Flower Orgy
q: What piece(s) of cassette culture are you totally excited about right now (besides the upcoming Silent Barn tape fair)?
t: I'm not against pro-dubbing tapes, and Mirror Universe Tapes occasionally does it, but I've really embraced home dubbing. That is something I'm personally excited about. I feel that it brings me back to a place that I've really admired for a long time. In college I was a huge Mountain Goats fan, and I always dreamed of owning some of those cassettes (I'm still a long time fan). I feel like it's a little closer to what Shrimper, Catsup Plate, and those classic indie cassette labels were doing, and the feel of the cassettes is a little more punk rock with resonates with my personal music roots. As long as the masters are good the duplicates will be good.
I've been looking for another dual cassette deck (which will make my 3rd). I've gotten kinda dorky about stereo equipment over the past year or so, and am looking for another Marantz deck. The motors on those machines are really special, and they really give life to the tapes.
m: i have mixed feelings about all the retromania this decade (which i totally propel myself) but overall i think it's cool that the internet kind of better enables these kinds of niches to exist. why not have tapes if you're into it and you have a community that's into it and it's cheaper to produce? a lot of people talk about the audio quality of tapes as if it's some sort of disqualifier, but i think that's a cop out–that invalidates the importance of medium in all forms of art. it's all about what works for that particular piece of art and sometimes that's subjective.
n: The community–people like Tom at Mirror Universe Tapes or Steve at Moon Glyph. I like knowing everybody by name. This is what I thought underground music was going to be like. I find that cassette people have a very pure enthusiasm for underground music, and not the game of surfacing underground music–all the noise you can't help but encounter by living in New York and being friendly with music industry people, who are all shades of jade at this point.
q: Anything we should know about your latest project (whether it involves tapes or not)?
t: Having three tapes come out for Cassette Store Day just kind of happened. All of them would have likely happened without the "day" but it seemed like as good of a release day as any. It's exciting that we are going to have tapes in some stores coming up…End of an Ear in Austin and Fingerprints Records in LA are two that I know of. Mirror Universe Tapes is going to release a tape by M. Sage at the end of September…I've been a fan of his music and label (Patient Sounds (intl)) for a very long time, and he is totally brilliant all around. It's a pleasure to be working with him, and releasing an amazing piece of his music. There will be an album release show in New York as well. We have a couple other things in the works with other bands I've admired for a while…they just haven't hit the point to where I can talk about them yet…but I can't wait until I can share.
m: business as usual at the silent barn!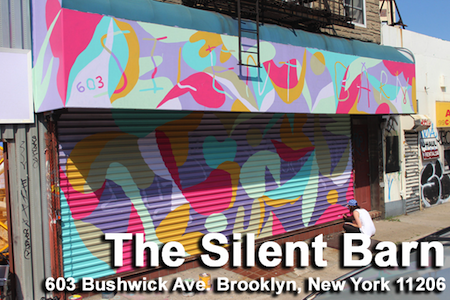 n: YVETTE's debut is coming out. It's called PROCESS. That'll be on vinyl. Alan Watts debut long-play cassette is nearly done too. I don't know what they'll end up calling it, but it's their best work yet. That'll be ready for the cassette fair hopefully. Sleepies have an EP coming out called More Humans, same deal. We recorded all this stuff at Silent Barn over the last few months. I'm also excited for people to hear Motion Studies, which is Tyler McCauley's dance project. We've been working with Andrew Raposo at Midnight Sound on those. Otherwise we have a photobook by Miles Gilbert coming out, and a zine called IN/OUT that I am doing with Dale Eisinger. Lots of stuff man!
Cold Sweat (mp3) by Yvette
Africa Bats (mp3) by Alan Watts
In White (mp3) by Motion Studies
Remember: Silent Barn! Sept 7th @ 5pm-12am! Cassettes! RSVP @ facebook.com
Silent Barn is on the internet
Silent Barn is on Tumblr
Silent Barn is on Twitter
Silent Barn is on Youtube
Silent Barn is on Facebook
Silent Barn is on Oh My Rockness
Silent Barn is on Mysocialist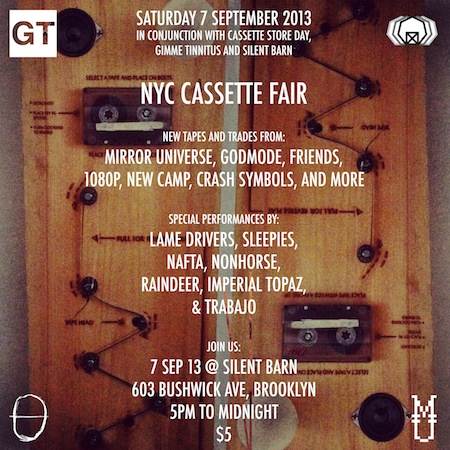 (Slightly) Related Posts:
(Pretty Much) No Related Posts