show :: 10/19/13 @ Silent Barn > GEXICMJ2013
Exploding In Sound Records + Friends are having their second birthday party and it just so happens that it's also an unofficial CMJ showcase. The party will happen The Silent Barn on October 19th, and it starts in the afternoon at 3PM with FREE pizza (while supplies last). It will feature a bunch of Exploding In Sound bands and couple that are not. Bonus points if you know which is which. This show is all ages. This is the third show in the GEXICMJ2013 series.
It's gonna be Super Rad [insert pizza emoji here].
Saturday. October. Nineteen.
Mark yr Calendar
Exploding In Sound Records Presents
(with a little help from GIMME TINNITUS + X4EYEZ)
BANDS (not actual line-up order):
Silent Barn
603 Bushwick Avenue, Brooklyn, NY
All Ages
Doors/Pizza at 3PM
Show at 4PM
$7 ($5 w/ CMJ badge)
FB rsvp: https://www.facebook.com/events/661907350495588/
OMR rsvp: http://www.ohmyrockness.com/showdetail.cfm?showid=87960
MSL rsvp: http://mysocialist.com/event/22145
Silent Barn haz a newsletter
Silent Barn is on the internet
Silent Barn is on Tumblr
Silent Barn is on Facebook
Silent Barn is on Twitter
Silent Barn is on Oh My Rockness
Silent Barn is on My Social List
BONUS Mixtape:
Silver Spring by Speedy Ortiz
The Valley (mp3) by Ovlov
Greatest City in the World (mp3) by Two Inch Astronaut
Gallery Palace (mp3) by Grass Is Green
Spinning (mp3) by Roomrunner
Never A Joke (mp3) by Krill
Bald History Month (mp3) Fat History Month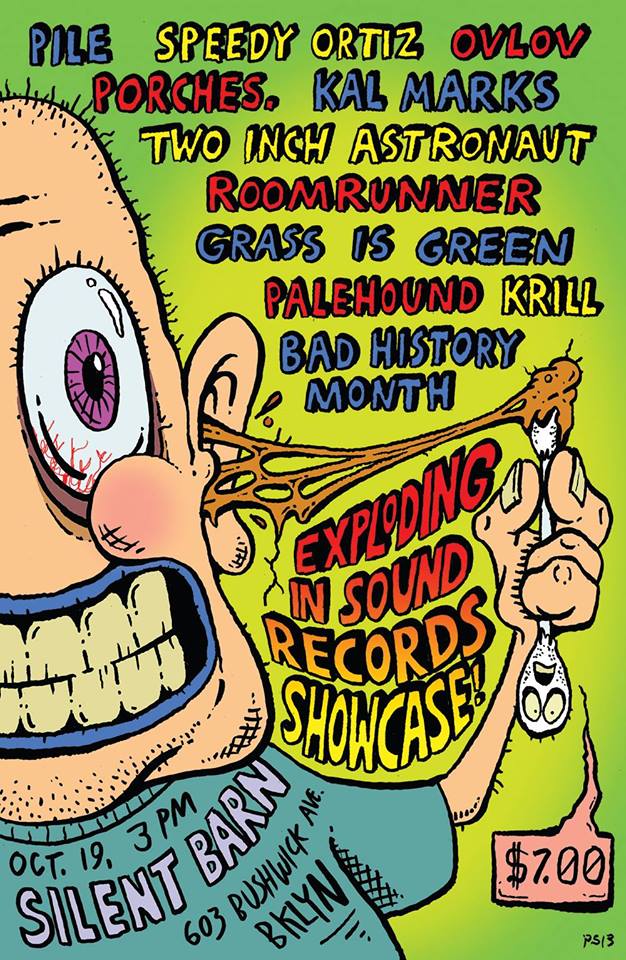 (flyer: preston spurlock)
(Slightly) Related Posts: