tour diary :: Distant Correspondent > Entry #11
Philadelphia! by EMILY
"Welcome to Philadelphia!" enthuses one of the guys from Dinowalrus. "The shittiest state in the union! Can you tell?" Actually, it's bizarrely reminiscent of Leicester, the land-locked, post-industrial middens in which I failed to misspend my youth. Businesses of no evident purpose or productivity lapse into soot-stained senility on street after unpopulated street; the few residents who have ventured out of doors sit in depressed huddles, chain-smoking. Ah, the nostalgia. Perhaps someone will lean out of their car window and yell "Cheer up, luv! It might never happen!" at me, and the illusion will be complete.
Tonight's venue, Kung-Fu Necktie, lies at the heart of this district. It's a cool-looking place, its exterior bright with murals of all manner of birds and beasts, but given its location, there's a collective suspicion that we'll be playing just to the other bands. If we're lucky. Inside, the Necktie has the rickety appeal of a defunct fairground fun-house. We cart the equipment up a flight of stairs in the process of subsiding into the basement to a set of rooms emblazoned with huge, garish advertisements. Behind the bar, a cartoon dog performs cunnilingus on a woman who has been severed at the waist; a tiny man attempts to climb out of the mouth of an amphetamine-crazed clown; and opposite the stage, a bedroom-eyed country girl entices connoisseurs to view retro porn "in throbbing color". It's a good job this cast of unsavoury characters is present because, as we'd suspected, no-one else is. At least we have Natty Bo, the beer of Margaret's teens, to temper our misgivings.
As show-time looms ever closer, the bar man, an old friend of David's, decides he'll have to let punters from the gig downstairs in for free if we're to have anyone watching us. Against the odds, this does the trick and by the time the first band, a punky outfit called Goner, take the stage, there is a respectable swirl of people. Goner are followed by Dinowalrus, our Old Flame label mates, who play enjoyable, synthy pop-rock, and have a vocalist who looks uncannily like Vince Noir from the surreal British comedy The Mighty Boosh. I'm very pleased that this has currency on the other side of the Atlantic. By the time it's our turn, we're all well on the way to intoxication. That Natty Bo is criminally more-ish, at least to those who like their lager to taste as much like piss as possible. Which I do. We quickly run through a sound check and conclude that there's little that can be done to prevent us from sounding like we're playing inside a giant sock. Given that we aren't going to get crystal-clear acoustics, we decide to treat the gig as an opportunity for fun, and it certainly is. We pull ridiculous shapes, swap beers and come off the stage laughing and happy. For me at least, this is simultaneously our worst and best gig so far.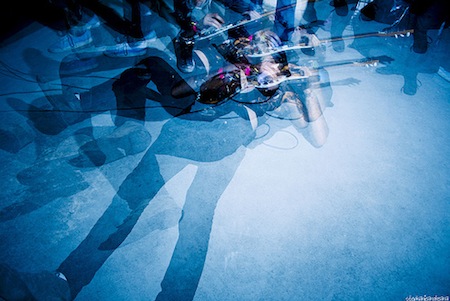 Distant Correspondent have a q and also a.
Distant Correspondent is on the internet
Distant Correspondent is on Tumblr
Distant Correspondent is on Facebook
Distant Correspondent is on Twitter
Distant Correspondent is on Soundcloud
Distant Correspondent is on Hype Machine
Distant Correspondent is on Hot Congress
Distant Correspondent is on Old Flame Records
Distant Correspondent is on Static Caravan
Distant Correspondent is on eMusic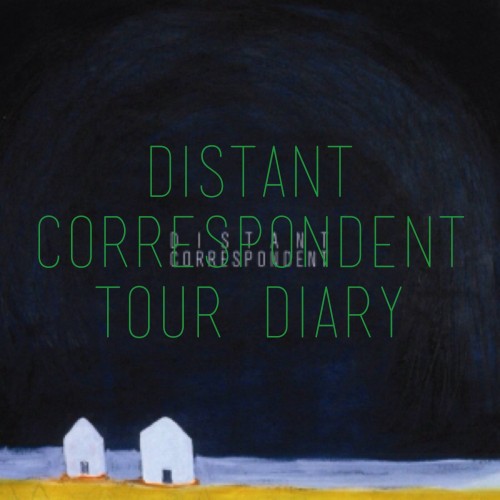 (Slightly) Related Posts:
(Pretty Much) No Related Posts