tour diary :: Distant Correspondent > Entry #8
Athens by EMILY
Emily here once more. After we've checked out of the motel, we load up on copious amounts of coffee and the first hot meal – with actual vegetables! – we've eaten in days. Feeling markedly more human, we pile back into Bernadette to commence our journey to the southernmost spot on our tour (I politely decline the lift I am offered in an obviously stolen car by a woman begging money at the gas station). We're playing on the roof of a former theatre in Georgia, Athens, which makes us the fucking Beatles. Dreaming of our legions of screaming fans, we travel through the most beautiful scenery we've seen thus far, mountains shrouded in the colors of fall and pleasingly gothic expanses of black water. I decide I need to move to the border between Tennessee and Georgia. When we arrive in Athens, the night-time air is balmy enough for us to be wandering around in short sleeves, reminding us that, in the past week, we have driven through three seasons. Back up in Colorado, there was snow on the ground, and now we're in high summer once more. We meet with Hunter, a charming fly-fisherman whose band is also playing and who has very kindly offered to put us up for the night. We're doing pretty well for meeting great people and really appreciate how kind and generous everyone has been. We drive round to the venue, and are delighted to see our name up in lights above the door. We're definitely the fucking Beatles. It's a new building on an old spot, an electrical fault having caused the original theatre to burn down five years ago. It has been impressively rebuilt and now serves as a multi-purpose arts venue, showcasing films and music and serving up delicious food. We'd been a bit uncertain about what playing on the roof was actually going to entail, but there's a great set-up, a very adept sound guy, a big curving bar and an absolutely stunning view of the city's up-lit classical architecture. This is going to be good. Tyler, spying a poster advertising Television's gig next week, decides we should probably write off the rest of the tour and just stay here. We watch Hunter's band, Blue Blood, in which his thoughtfully plaintive guitar and vocal parts are backed up with accordion, before taking to the stage ourselves. Playing up above the city in the open air, with the glowing cupolas and domes rising up out of the darkness below us, is a truly magical experience, and our audience, lounging beneath the bar's heat lamps, are enthusiastic about our set. We're followed by Wood Fangs, whose raucous, unhinged brand of rock is reminiscent of a Deep South Pixies. What with the tearful groupies, the paparazzi and the protesters unconvinced by our claims to be bigger than Jesus, getting out of the venue afterwards is a struggle, but eventually we make it back to Hunter's for some much-needed shut-eye. Or, in the case of band members more rock'n'roll than I'm feeling at this point, more whisky.
"DON'T LET ME DOWN" by The Beatles
NYC Show:
Distant Correspondent have a q and also a.
Distant Correspondent is on the internet
Distant Correspondent is on Tumblr
Distant Correspondent is on Facebook
Distant Correspondent is on Twitter
Distant Correspondent is on Soundcloud
Distant Correspondent is on Hype Machine
Distant Correspondent is on Hot Congress
Distant Correspondent is on Old Flame Records
Distant Correspondent is on Static Caravan
Distant Correspondent is on eMusic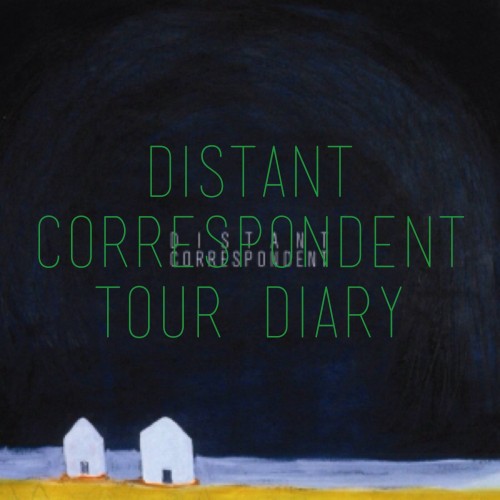 (Slightly) Related Posts:
(Pretty Much) No Related Posts