best of 2013 :: Favorite MP3s
And now the final GIMME TINNITUS best of 2013 of 2013, the favorite mp3s post, featuring 103 mp3s!
The songs are listed in mainly alphabetical order by artist, but if you want to know what song I listened to the most it was California Girls by Shark? followed closely by The Observer by Hive Bent, but really you should just listen to them all. Admitted, some of the songs featured here in this post are not actually from 2013, some are reissues, others are songs that I found myself listening to a lot, but the vast majority is all 2013.
You can play individual tracks using the tiny play buttons next to each mp3 link, OR you can stream all the songs in this mix using the streampad player at the bottom of the page, OR you can just download any or all of the tracks at your leisure and play them using a digital media player of your choice.
First up here is a CDr-able mix of my 25 favorite songs from 2013 that happen to be downloadable here at GIMME TINNITUS. Listen.
Downloadables:


And here's the rest of the best of 2013. Enjoy!
You can check out the rest of the GIMME TINNITUS "best of" coverage using this link.
If you want to download all the individual tracks in this post, you should probably think about installing the DownThemAll! or FlashGot Firefox extensions, provided of course that you are use Firefox to view this site.
And If you like what you see/hear you should probably purchase music from the above artists at any of these fine online retailers or your local independent record store or better yet buy directly from the band next time you go out to a show:
Insound | eMusic | Other Music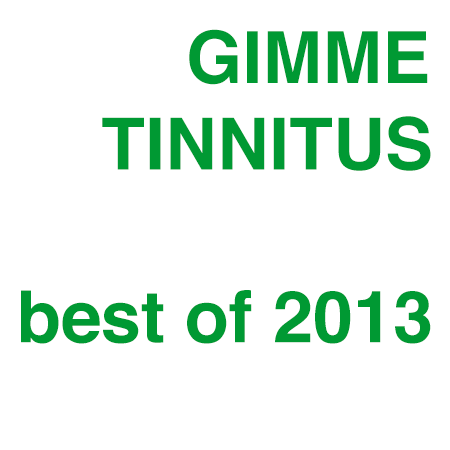 (Slightly) Related Posts: