show :: 6/19/14 @ Trans-Pecos > Advaeta ~ Alexander Turnquist ~ Christopher Tignor ~ Eula
Two experimental Western Vinyl artists + Two of Brooklyn's finest post-punk outfits will be performing at The Trans-Pecos of Ridgewood, Queens on the evening of June 19th.
Oh, and you can pick up Turnquist and Tignor's recordings at westernvinyl.com if you want or you can wait and purchase directly from the artists at the show. Your choice.
June 19th. Trans-Pecos. Mark yr calendar.
GIMME TINNITUS present…
June 19th
Trans-Pecos
915 Wyckoff Ave
8pm / $8

fb rsvp: https://www.facebook.com/events/246497865548032/
omr rsvp: http://www.ohmyrockness.com/shows/168433
The Trans-Pecos is on the internet
The Trans-Pecos is on Twitter
The Trans-Pecos is on Oh My Rockness
The Trans-Pecos is on My Social List
BONUS:
Honor Killer (mp3) by EULA
The Hustle (mp3) by Christopher Tignor
Wildflower (mp3) by Alexander Turnquist
Gold Thought Exit (mp3) by ADVAETA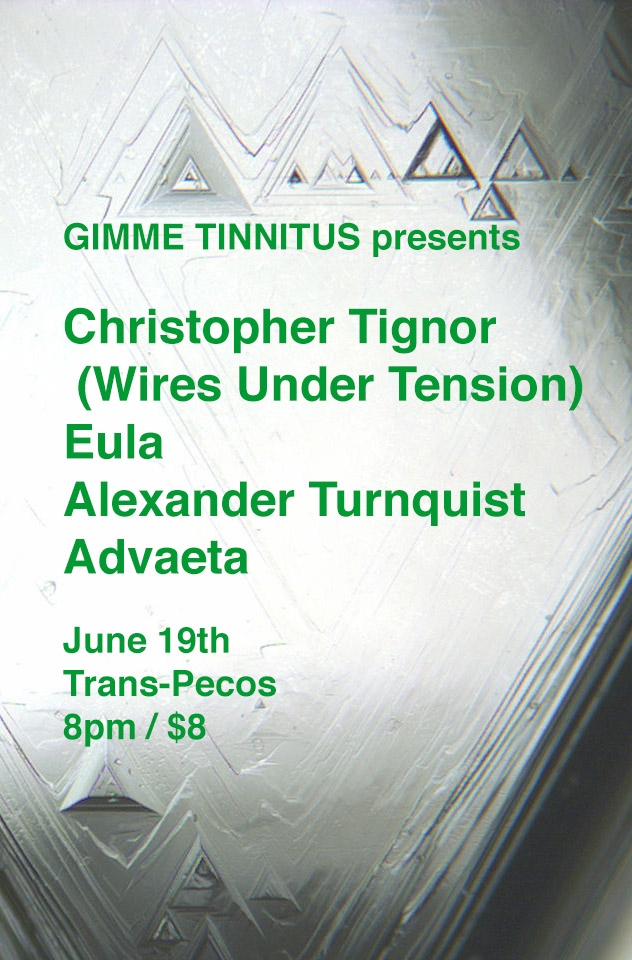 (Slightly) Related Posts:
(Pretty Much) No Related Posts