q and also a :: Leggy


Véronique Allaer of Ohio's own Leggy sent us these answers to our questions in this next installment of q and also a.


q: What is the last song you (really) heard?
v: I'm sitting in an airport bar at LAX called Rock & Brews, they are playing the music video / audio for Michael Jackson's Black or White at this very moment!





q: What is the first album you remember purchasing?
v: My dad always had a ton of really good cds so I vividly remember listening to some true classics like Jagged Little Pill by Alanis and Tragic Kingdom by No Doubt way back in the day, and I always had Spice Girls and other pop superstar cds like that. But the first I remember buying specifically for myself (!!) is the s/t All American Rejects debut cd. It's my goal to go on tour opening for them. Please help if you can.





q: What is the last album that you purchased?
v: The last album I purchased is Deep Dream by Daddy Issues. We just finished a tour with them. They are so good and cool and literally so nice. I can't say enough good things about them!





q: What is one of your favorite memory of experiencing music in a live setting?
v: I have really good memories of music festivals, especially camping ones. I always have the best and silliest time. Besides that, my fave memories definitely include some amazing Leggy shows, the ones that seemed like a dream, like when we played in Madrid, or doing a whole tour with Shonen Knife. I love touring with bands because by the end of the tour you all know each other's sets ! It's cute and cool.





q: What are the best and worst things about being a musician in Ohio in 2019?
v: Best things are the low cost of living (in Cincinnati at least) as well at the location. We live within a day's drive of most major east coast cities, as well as Chicago, Detroit, Nashville, Atlanta. It's very convenient for touring!




q: What piece(s) of culture are you really really excited about right now (if any)?
v: I am super excited by the influx of new womxn in politics! Specifically Alexandria Ocasio- Cortez – she is so transparent, likeable, and such a breathe of fresh air! Politics was my other primary interest other than music so it's cool to see another young womxn make such a big splash! It's also so wonderful that taking about sexuality, gender, and gender roles etc is a much more common topic of conversation than it even was a few years ago. Queerdom is finally becoming mainstream which is so awesome because it seems so natural to me.





q: What should we know about Let Me Know Your Moon?
v: I am so excited to share this album with the world! It is different than our previous stuff, which was written when we were very much still figuring out our sound, vision, and literal instruments. After touring for 4 years, I developed a sense of self and confidence in my songwriting and lyrics that I believe is palpable in the album. Another aspect that I think affected the album is that I no longer feel embarrassed or ashamed for doing something out of the box, or overtly sexy or feminine. I think that coming up in the DIY punk scene as we did, being a woman I learned that putting in effort into your appearance or performance was lame and uncool. Literally, for the first few years we were a band, we played mostly punk spots which were run by dudes who seemed to make a contest out of who could care less, be the most fucked up, put the least amount of effort into their craft. That is soooo not my personality… this is the album where I feel confident enough to recognize that I don't need the approval of anyone – least of all the DIY punk dudes who were never gonna let Leggy into the club anyways.


Let Me Know Your Moon comes out March 8th via Sheer Luck Records. Listen to the new single, Taffy…



Oh and check out the other two singles from the new album…



Preorder Let Me Know Your Moon:
@ https://sheerluckrecords.com/shop/leggy-let-me-know-your-moon-lp


Upcoming show(s)…
February 24th at Big Room Bar (Columbus, OH)


Leggy is on Bandcamp
Leggy is on Twitter
Leggy is on Facebook
Leggy is on Soundcloud
Leggy is on Sheer Luck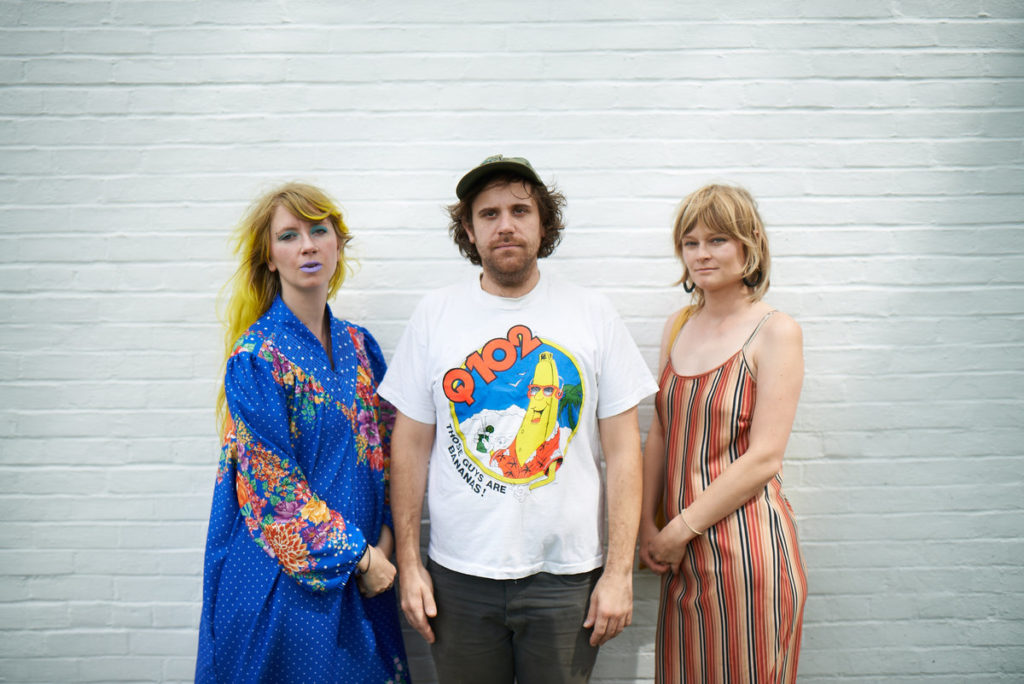 (Slightly) Related Posts: