mp3 :: Peals > Blue Elvis
Peals is comprised of:
William Cashion (of Future Islands) – electric, acoustic, floating guitars, field recordings, and feedback.
and
Bruce Willen (ex-Double Dagger) – guitars, keyboards, walkie-talkies, toy piano, tambourine, feedback, and microphones.
The duo is getting ready to put of its first LP, Walking Field via the always radical Thrill Jockey. The LP comes out on May 14th, and is more quiet/intimate compared with the work of Cashion and Wille's other bands. Thrill Jockey states: "Walking Field is headphone music for summer afternoons and cold winter nights; a soundtrack for deserted beaches and wooded campfires; the feeling of a sunrise alone, or a sunset with a close circle of friends."
Listen.
Downloadable: Blue Elvis (mp3)
You can preorder Walking Field @ thrilljockey.com and maybe grab a limited edition bonus 7″ with two non-album tracks.
You should also check out "Furniture", an ambient music experiment comprised of 16 embeds @ pealsmusic.com.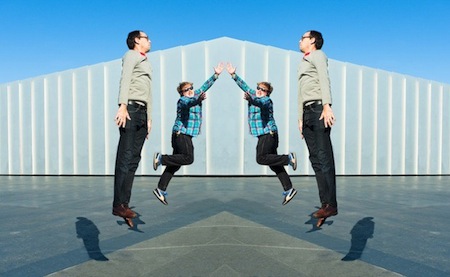 Upcoming NYC show:
Oh and on 4/20 (a/k/a Record Store Day), Thrill Jockey will be releasing the final Double Dagger EP: 333 which will be coupled with If We Shout Loud Enough, Gabe DeLoach's documentary about the band's final tour and legacy. A teaser clip for @ If We Shout Loud Enough vimeo.com. You can facebook If We Shout Loud Enough @ facebook.com/doubledaggerisdead. 333 preorder info is available @ thrilljockey.com.
Peals is on the internet
Peals is on Twitter
Peals is on Hype Machine
Peals is on Thrill Jockey
(Slightly) Related Posts: