best of 2013 :: GIMME TINNITUS Radio Time > December 22, 2013
This here is the last GIMME TINNITUS Radio Time internet radio show of 2013 in which I play 37 of my favorite tracks from 2013 and have only a few technical problems.
Listen.
Downloadable: GTRT 12-22-13 :: GIMME TINNITUS Radio Time (mp3)
The Playlist:
Notes & Chords Mean Nothing To Me by Monkeywrench
Newo by ADVAETA
Behead Yrself, Pt. 2 by Bent Shapes
Eleven Years After (mp3) by Big Pauper
Fresh Meat by BIG UPS
Psychic Flashes by blood sister
Greetings From the Bottom by Bunny's A Swine
Loose by Butter The Children
Casino Lisboa by Dirty Beaches
Radio Eyes by Ed Schrader's Music Beat
I Collapse by Eula
Sockets by fins
Alpha 60 Punch Out by The Flag
This Song Is A Drug Deal by Foot Village
Hypnotic Regression (mp3) by Girls Names (skipped)
Obvious Signs by Grape Soda
White Eyes by Haunted Horses
Drone by Heaven's Gate
The Observer (mp3) by Hive Bent
Street Trash by Hunters
Never a Joke by Krill
I Saw You From The Lifeboat by Liars
Can't Understand (mp3) by Metz
C'mon, Stimmung by No Age
Rapid Reality by Radical Dads
Wojtek by Roomrunner
Annalisa by Sleepies
Tiger Tank by Speedy Ortiz
Matt LeBlanc (mp3) by Steel Phantoms
Suicide 1997 by Tape Deck Mountain
Toe Cutter – Thumb Buster by Thee Oh Sees
Gamelan to the Love God by Trabajo
Church Van Contraband by VULTURE SHIT
Bottomed Out Bill by Waylon Thornton and the Heavy Hands
Stop Having Fun (mp3) by Wimps
Pure Pleasure by YVETTE
36″ Chain (mp3) by Run The Jewels
The next show is on 1/5/14 @ 4PM EST.
There is a GIMME TINNITUS tag @ newtownradio.com.
Newtown Radio is on the internet
Newtown Radio is on Facebook
Newtown Radio is on Twitter
Newtown Radio is on Youtube
Newtown Radio is on Free Music Archive
Newtown Radio is on live365
Newtown Radio is on TuneIn
You can follow the rest of the GIMME TINNITUS "best of" coverage using this link.
If you like what you see/hear you should probably purchase music from the above artists at any of these fine online retailers or your local independent record store or better yet buy directly from the band next time you go out to a show:
Insound | eMusic | Other Music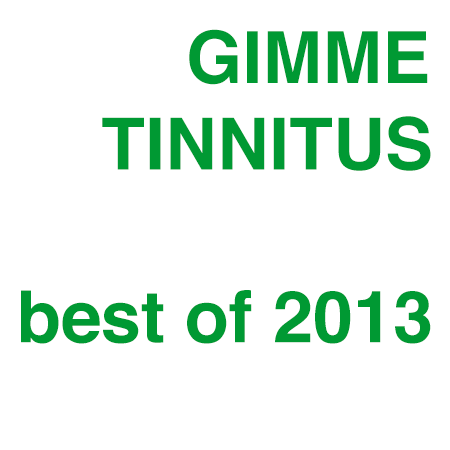 (Slightly) Related Posts: