q and also a :: Shark?
This q and also a features the answers of blogger turned rocker Kevin Diamond the singer/guitarist/keyboardist of Shark?.
q: What is the last song you (really) heard?
a: A Crime (mp3) by Carnivores. We just played with them and Dinosaur Feathers at Cake Shop last night and they blew me away. A Crime is their catchiest tune, though Organ Trail is probably my favorite so far. I just got it this morning and I've listened to the album three times today
q: What is your favorite food?
a: Anything Mexican. Anything involving Cheese and Beef and Beans and Tortillas. And hot sauce. And no napkins.
q: What is your favorite band to see live?
a: ugh. I dunno. Really tough question. Gang of Four kind of killed it, smashing a microwave with a wooden bat. Actually, Liars put on a really great show at the Pool Parties a couple years ago. Also, there's a bunch of local bands I really love seeing live: Sundelles, I'm Turning Into.
Listen:
Second Life (Version 2) (mp3) by Gang of Four
Plaster Casts Of Everything (mp3) by Liars
Your Favorite Thing (mp3) by The Sundelles
Chin (mp3) by I'm Turning Into
q: What is your favorite venue in NYC (if applicable)?
a: I really enjoyed playing Silent Barn.
q: OK, President Obama appoints you as the first Secretary of Culture, to whom do you give your first grant?
a: Brian Eno.
Listen: Baby's On Fire (mp3)
q: Anything we should know about your latest project (whatever that might be)?
a: We're recording our first album. It's the first time Shark? songs have been recorded as a band as opposed to just my fucking around on my own.
Here are a few Shark? songs.
Listen:
Fear! (mp3)
I'm An Animal (mp3)
I've Got Friends (mp3)
But know what? you should totally just download their EPs for free @ Bandcamp.
Upcoming Shows:
Feb 3 (TONIGHT!) @ Glasslands
Feb 16 @ Pianos
Feb 19 @ Fort Useless
Feb 25 @ Housingworks Bookstore (Hype Machine/Ampeater show)
Mar 4 @ Glasslands
Shark? is on Twitter.
Shark? is on Bandcamp.
Quiet Color is here.
Gimme Sound page is here.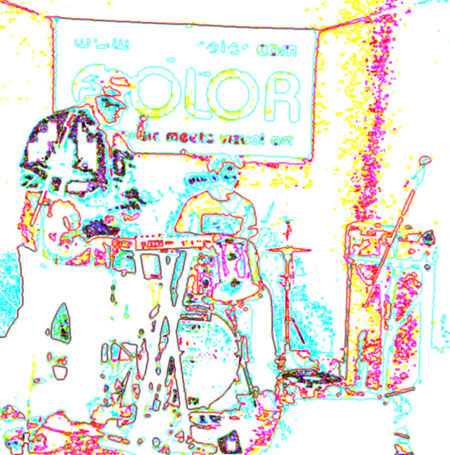 (Slightly) Related Posts: