show :: 10/15/13 @ Shea Stadium > GEXICMJ2013
Get Ready.
GIMME TINNITUS, Exploding In Sound Records, X4EYEZ and Ipsum Mag are putting on a series of unoffical CMJ shows we (mainly me) are calling GEXICMJ2013. The first one kicks off CMJ time on October 15th at the venerable Shea Stadium and features the Ipsum Dream Team and two awesome noise rock bands from the city of Baltimore, Maryland.
Tuesday. October. Fifteenth.
Mark yr Calendars.
GIMME TINNITUS + Ipsum Mag Present
Tuesday, October 15th
Shea Stadium
20 Meadow St.
Brooklyn, NY, 11206
$8; 7 PM doors
FB RSVP @ https://www.facebook.com/events/309449349196986/
OMR RSVP @ http://www.ohmyrockness.com/showdetail.cfm?showid=87754
MSL RSVP @ http://www.mysocialist.com/event/22435/
Shea Stadium is on the internet
Shea Stadium is on Twitter
Shea Stadium is on Facebook
Shea Stadium is on Tumblr (last update 9 months ago)
Shea Stadium is on Oh My Rockness
Shea Stadium is on My Social List
BONUS:
The Claw (mp3) by LOW FAT GETTING HIGH
Fresh Meat (mp3) by BIG UPS
Dinnertime (mp3) by VULTURE SHIT
My Apartment (mp3) by Flagland
Mouse Shadow (mp3) by Hive Bent
Terra Incognita (mp3) by A Guide To Rational Living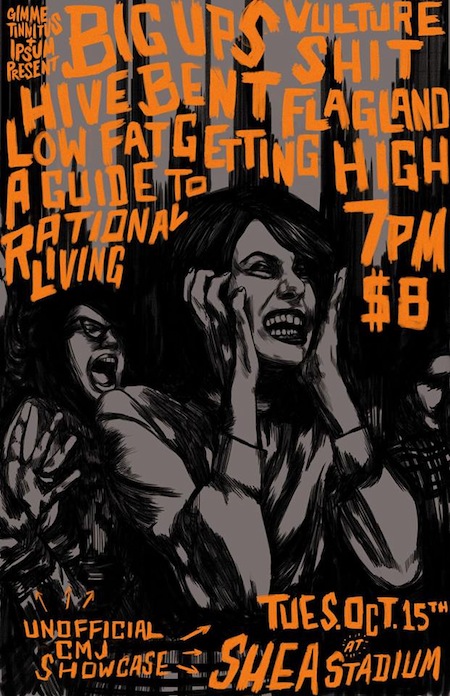 (flyer: Nicole Rifkin)
(Slightly) Related Posts: