tour diary :: Distant Correspondent > Entry #12
Pittsburgh by DAVID
Pittsburgh, we hardly knew ye. We got to town right before the first band started, and for the first and only time of the whole tour, we had to leave right after playing. As such, we did not get to see a band I'd been looking forward to checking out: The Silver Thread.
Though Goes Cube has played Pittsburgh a number of times, this was my first time playing the Thunderbird Cafe. It's a venue I've heard more and more about, and I can see why. The performance space is intimate and small, but the sound system is powerful, and the whole layout of the room is really interesting. In fact, the venue itself is an interesting mix of dive bar and classy joint. Or maybe it's not divey at all, and it's just that smoking is still allowed in Pittsburgh. Either way, we really liked this place. It's too bad we couldn't stick around and enjoy it more, but we aimed to make it to one of our home-bases-away-from-home-base: Cincinnati. After all, it's where Margaret lives. And with a house void of roommates (bummed to not meet them), we had a whole place to ourselves where we could set ourselves up in and get rest (and do work the next day).
It was a fun set, great sound, and plenty of friendly people. But it was pretty much over before it began as we set out on our 5.5 hour journey. We arrived in Cincinnati at 4am utterly exhausted, but excited that we'd already arrived where we'd be playing the following night. We slipped into our sleeping bags shortly before the sun rose. We needed rest. Not just because of the drive, but because we knew the next night in Cincinnati would be a big one.
"TWENTY ONE by THE SILVER THREAD"
Distant Correspondent have a q and also a.
Distant Correspondent is on the internet
Distant Correspondent is on Tumblr
Distant Correspondent is on Facebook
Distant Correspondent is on Twitter
Distant Correspondent is on Soundcloud
Distant Correspondent is on Hype Machine
Distant Correspondent is on Hot Congress
Distant Correspondent is on Old Flame Records
Distant Correspondent is on Static Caravan
Distant Correspondent is on eMusic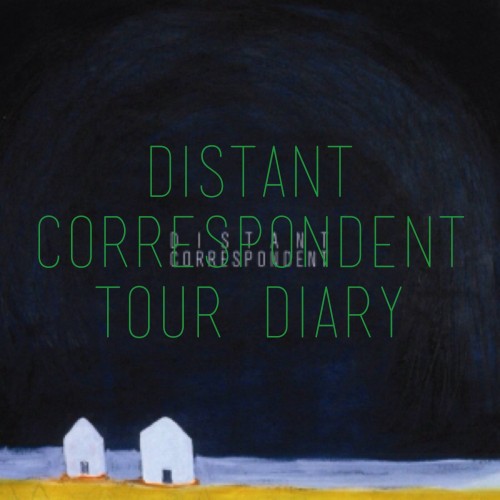 (Slightly) Related Posts: