tour diary :: Distant Correspondent > Entry #13
Cincinnati by MARGARET
When The Seedy Seeds were actively touring, we were in the habit of trying to get our daily itinerary as tight as possible. There's no doubt that remnants of that approach were active in my brain as I reviewed Distant Correspondent's routing and lodging plans just before departing for Denver. I didn't like the way Pittsburgh was looking—our following stop would be Cincinnati where I knew for certain we could all get good rest, good meals, and a rare chance to do every stitch of laundry we have—but if we didn't do things just right departing PGH, we'd get to Cincinnati too late to take advantage. I decided I'd propose we drive straight through to Cincinnati (or at least to Columbus) following our Pittsburgh show. Fortunately, when the time was ripe to pitch the plan to the rest of DC, everyone was game for it.
Despite that I've called the city "home" for the past 8 years, and that I've been active in the local music scene for almost as long, I'm not sure I would otherwise get so sentimental about a show in Cincinnati except that it was the booking of this show that effectively tipped things into motion with Distant Correspondent and inevitably landed me the gig touring with them. Adding to the importance I was already placing on the gig for myself, I found myself anxious to show DC off to Cincinnati and sharing what I do with DC—I was booked as the opener for the night. Between my expectations for the show and the barrage of texts from friends looking to get together, I was having trouble thinking of anything else by the time we were ready to depart Pittsburgh.
We arrived in Cincy around 5 a.m. knowing that we could sleep in as late as we wanted—we were here. I rose early and fixed some rice, daal, and veg soup for everyone, and took advantage of some time at home to tackle some non-musical projects.
David and I had been talking about him joining me on a song or two for almost the duration of tour, though we'd found every reason to not practice up to this point. Once the rest of the house was up (save for Michael, who, in filling his heroic role of driver for the last leg of our late-night-Cincinnati-or-bust drive from PGH, had consumed enough energy to power a small farmhouse for a week, and was in a deep slumber on the pull-out couch), David and I got cracking on rehearsal. Around mid-afternoon my friend and backing vocalist Shannon Lewis arrived to join us.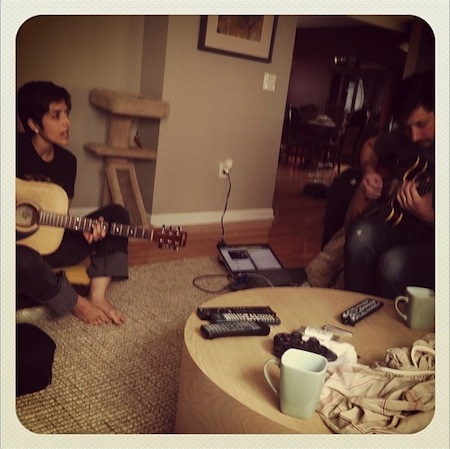 There's a lot to do in Cincinnati, and it would have been too easy to insert myself as tour-guide for the day, but I really only felt strongly about taking everyone to see one thing: The Party Source. The Party Source is a liquor store practically the size of a Wal-Mart on the other side of the river, and having been caught in some seriously stupid Cincinnati traffic en route, it was a magnificent sight to behold probably on the exact scale of Shackleton's spotting of South Georgia from the James Caird. Once we were done exploring the aisles upon aisles of adult beverages, and were well-spoiled from the many, many choices of wine slammers available, it was time to head back, paint my nails, and head to Mayday for the show.
Upon arrival, it was clear that Cincinnati really came out to represent. I was thrilled to immediately set eyes on some super-awesome friends among some unfamiliar faces—all ready to sacrifice a good night's sleep and possibly show up for work still a little drunk to support live music on a Monday night. After we'd loaded in, Shannon, David and I did a quick sound check. When it was time to get started, Shannon and I beckoned David and my friend Alex up on stage for a ToToast—my pre-show Margaret Darling ritual. Not like I'd ever say doing a pre-show shot is the wrong thing to do, but on this night it was certainly the right choice—I found I was extremely nervous performing my stuff in front of these four folks with whom I'd been touring. Probably do to my extremely loud and neurotic internal monologue, our set seemed to fly by. We welcomed David up to join us on "Curated Words" and "The Wake" before finishing our set and forfeiting the stage to Mack West.
Still a little wound up from nerves, I joined some friends on the patio for a few before heading in to catch Mack West's set. Before I knew it, I was back on stage and finishing the night out with Distant Correspondent. The hometown energy was impossible to deny and I found myself at last at ease and having a seriously great time. It was seriously cool to open and close the show, and to have the support of so many seriously awesome folks in attendance. I hope DC can make it back to the Queen City very soon for a repeat.
"THE RAPTURE SINGLE by MACK WEST"
Distant Correspondent have a q and also a.
Distant Correspondent is on the internet
Distant Correspondent is on Tumblr
Distant Correspondent is on Facebook
Distant Correspondent is on Twitter
Distant Correspondent is on Soundcloud
Distant Correspondent is on Hype Machine
Distant Correspondent is on Hot Congress
Distant Correspondent is on Old Flame Records
Distant Correspondent is on Static Caravan
Distant Correspondent is on eMusic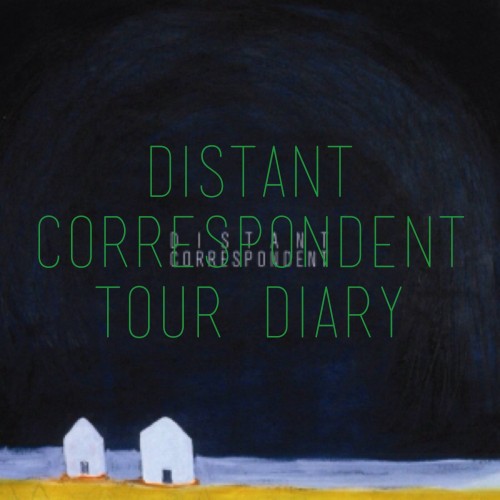 (Slightly) Related Posts: