concerts :: EISGTNSIDE13
I am so excited to officially announce our unofficial 2 day Northside showcase with Exploding In Sound Records which we are calling EISGTNSIDE13. Needless to say, this will be a 48 hour period totally filled with awesomeness.
On June 14th, starting at 3:30 PM, we are going to melt your brains with an amazing 14 band showcase at the new even-better-than before Silent Barn. (Speaking of Silent Barn, did you see this article in the gray lady? I know I did.) Longtime Readers of GIMME TINNITUS should recognize all of the bands playing at Silent Barn on the 14th, including a number from always awesome GODMODE. Then starting at 5 PM on June 15th, Exploding In Sound Records will take over Big Snow Buffalo Lodge. All the bands playing are from the EIS family of bands (which the exception of GT favs Hive Bent, who are touring with Two Inch Astronaut from June 9th to 17th).
And let me just say that you should go out of your way to get to these shows EARLY! Low Fat Getting High on the 14th and Porches. on the 15th are NOT TO BE MISSED.
Both shows are all ages.
FB RSVP @ https://www.facebook.com/events/417761218321788/
Oh My Rockness: June 14th + June 15th
My Social List: June 14th + June 15th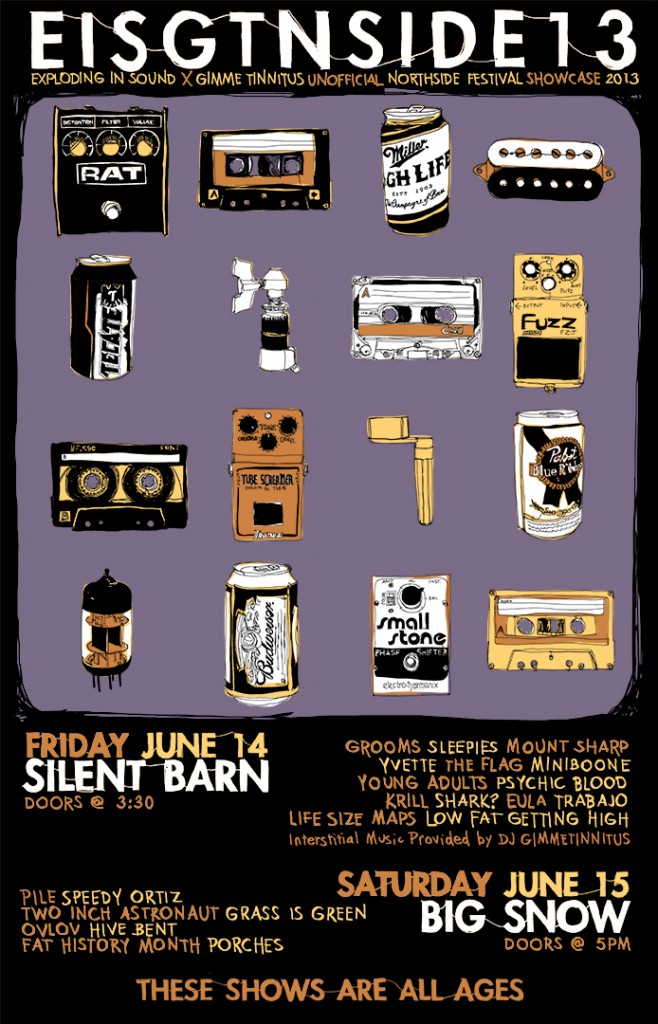 (flyer by michael patrick sincavage)
So, get psyched for the show(s) by listen to some of the sounds of EISGTNSIDE13. You can stream (and scrobble) all the songs in this preview using the ex.fm player at the bottom of the page OR you can just download any or all of the tracks at your leisure and play them using a digital media player of your choice.
To make things a little easier for you, here's all of the mp3s below, all zipped up.
Downloadable: EISGTNSIDE13 Mixtape (mediafire)
Exploding In Sound Records and GIMME TINNITUS Present: EISGTNSIDE13
June 14th @ Silent Barn
3D Voices (mp3)
Seriously (Evil Radio Edit) (mp3)
Cold Hands (mp3)
In Praise of Our Doubts (Father Murphy cover) (mp3)
Bad Blood (mp3)
Brand New Thing (mp3)
Spectre (mp3)
Drrrty (mp3)
Purity of Heart (mp3)
Slap Dash (mp3)
Tree for Shade (mp3)
P I Z Z A (not a band, actual pizza)
Black Practice (mp3)
It's Leaking (mp3)
Fucking Hopeless (mp3)
Interstitial music provided by DJ GIMMETINNITUS
Price $7
Doors 3:30
Silent Barn
603 Bushwick Ave
Brooklyn, New York 11206
Silent Barn haz a newsletter
Silent Barn is on the internet
Silent Barn is on Tumblr
Silent Barn is on Facebook
Silent Barn is on Twitter
Silent Barn is on Oh My Rockness
Silent Barn is on My Social List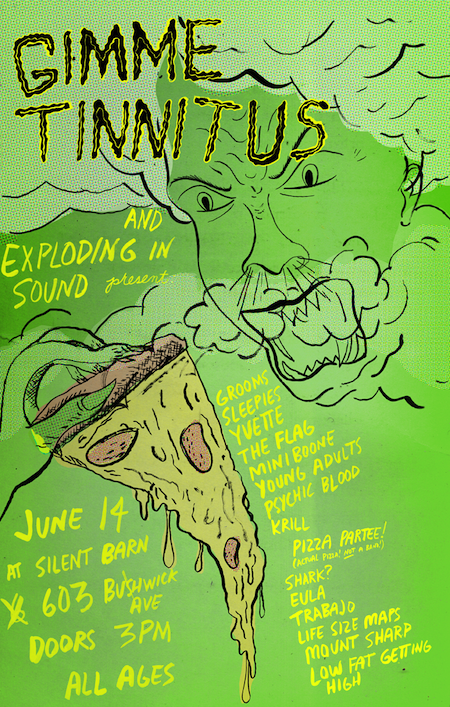 (flyer: ted mcgrath)
Prom Song (mp3)
Silver Spring (mp3)
Greatest City in the World (mp3)
Gallery Palace (mp3)
The Valley (mp3)
The Observer (mp3)
Bald History Month (mp3)
Je T'aime (mp3)
Price TBD
Doors at 5 PM.
Big Snow Buffalo Lodge
89 Varet St
Brooklyn, NY 11206 ‎
Big Snow Buffalo Lodge is on Tumblr
Big Snow Buffalo Lodge is on Facebook
Big Snow Buffalo Lodge is on Twitter
Big Snow Buffalo Lodge is on Oh My Rockness
Big Snow Buffalo Lodge is on My Social List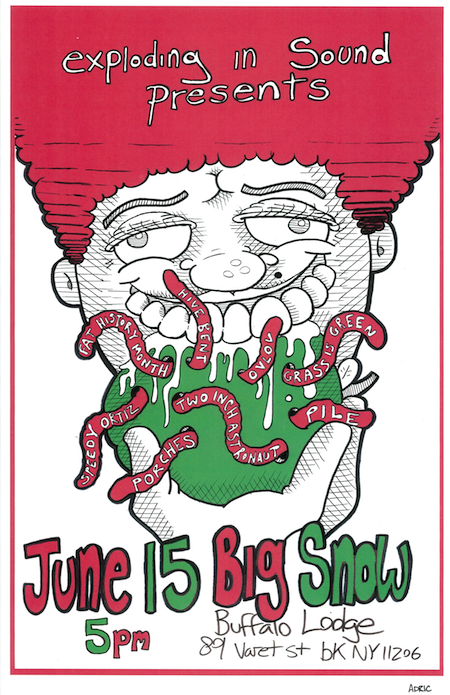 (flyer: adric giles)
(Slightly) Related Posts: